I have been a busy girl since I last posted. I was admitted to hospital one night not long after the baby shower with terrible abdo pain. It was decided that I have lots of gallstones & the surgeon is going to chop me about & give me some of his sewing tips!I am waiting to have some more tests done, these are next week & quite frankly , I'm a bit scared! I'm sure I will be fine but if I could get out of having an endoscope , I would!!!
I also start a new job next week , just a few days before my hospital date. I am so excited about this job. I'm going to be an Heir Hunter! That's the same as the t.v
Heir Hunters
. Its been a while since I last had a proper job & I am looking forward to it. I have worked hard to find a job I really liked & I think this is kind of similar to what I did before , just there will be more happy endings this time.
We have a new baby in our family. Its a little boy & he is just two days old. How lovely to have a brand new baby! I was at a loss as to what to send mum & dad for the baby. The first born was a spring baby , so most of his clothes will probably be too warm for this one. They live in Austria & it is really hot there at this time of year, in the 30's some days. I decided to make a quilt as part of their gift . I love choosing colours & fabrics & I plumped for a nice grey & orange colourway & made it out of washable baby friendly cotton with a 100% cotton wadding as well. I'm afraid the budget couldn't stretch to organic cotton , but this I think is just as good. I made sure all the dressing in the fabric was washed out well along with any starch I used to stabilize the fabric as I sewed.
I used a pattern I bought from Craftsy . I used the
Baby Chevron Quilt pattern.
from Piper's Quilts and Comforts. Its very simple to make , the only thing I wished I had known before I cut & sewed the squares into half square triangles is that once they are cut , they stretch like heck!This is preventable by using a ton of spray starch & pressing the fabric carefully & well . Press rather than iron , as this will help avoid the fabric from moving out of shape. Also to recheck the squareness of the blocks before sewing them together.
One other mishap I had was using some unknown cheap thread. It puckered all my sewing & I had to unpick every last bit & re sew it all. This took me a whole evening & made me get really behind time. Moral of the tale , use a tried & tested brand. Never use cheap thread or cotton as it just wont perform the way you want it to. Apart from the odd pucker here & there , I am very happy with the quilt for this little boy & hopefully it will become a firm favourite of his.I just have to make a label for it & it can be packed up & posted off.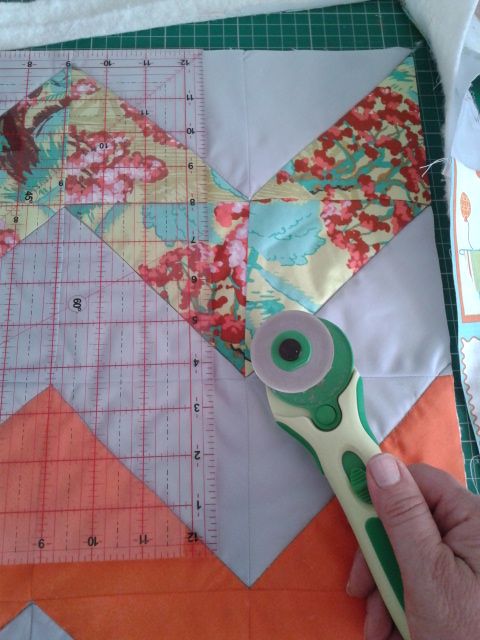 Squaring up ready to bind the edges.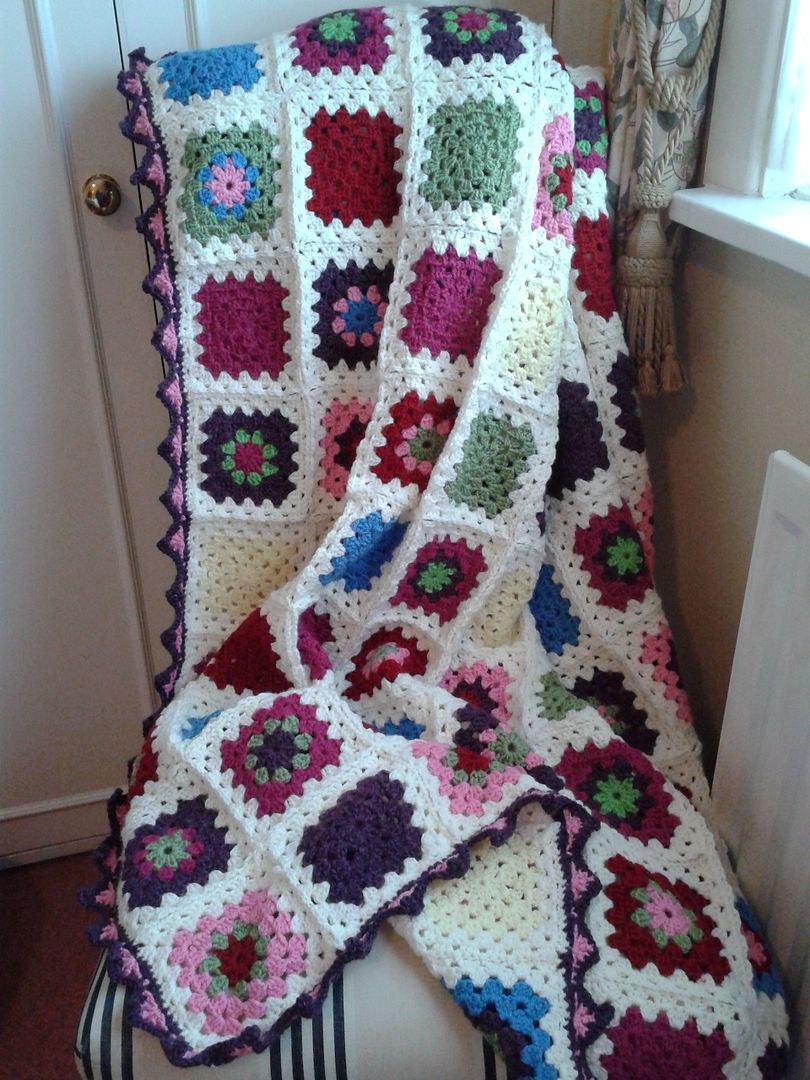 A crocheted blanket for friends who got married.
I also finished a blanket I had been making over the last year as a wedding present for friends of ours. It was so nice when it was finished , I didn't really want to part with it! I made a label on the printer using freezer paper.
This is the front of the baby quilt.
Back of quilt showing pieced fabric. I managed to use nearly all the fabric I had bought without having to buy extra for binding or the back. I like the way it looks all pieced together. I love the multi fabric for the binding as well.I hope little one will use it as he gets older & finds great comfort from it.I cant wait to meet him.